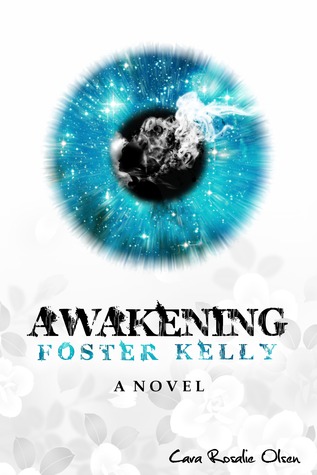 Awakening Foster Kelly
by Cara Rosalie Olsen
YA Contemporary Romance / Fiction
Published June 26, 2013
*Ebook obtained directly from the author in exchange for an honest review*
Synopsis via Goodreads:
If only a pile of wayward curls and the inability to stay on her feet were seventeen year-old Foster Kelly's most pressing concerns. Unfortunately, stubborn hair and clumsiness is just the tip of it. It was only a mistake, but when at the age of five Foster is told "You don't belong here" the result is one broken heart. These four carelessly spoken words have shaped and shadowed Foster, and now—a senior at Shorecliffs High School—she seeks the wallflower's existence, denying herself the most casual of friendships, much too afraid that someone will see what Foster believes is certain: she does not belong anywhere – or with anyone. This reality would continue to suit her just fine, however . . .

Love has a long-standing history of undoing broken hearts.

Like a comet, an unexpected arrival knocks Foster out of the crowded, starry sky, sending her directly into the limelight. Exposed and afraid, she will attempt to regain anonymity; but it isn't so easy now that someone is watching. He pursues this shy enigma, confronting Foster's deepest fears head-on, and in the process falls wholly and completely in love with her. But there is something he is not saying; a secret capable of certain ruin. There are two probable outcomes: either he will break her heart once and for all, or he will heal it.

In the end, though, it is Foster who must decide if she is worth mending.
It's taken me quite a while to get through AFK. The reasons for that were unrelated to the novel itself and due to more personal life situations. That's a story for another day. During that time, I read AFK off and on. It's been sort of a relaxation tool for me. Ha. Cara's writing is very fluid. It flows so well that I sort of just melted into it. Now I'm not saying the novel was boring or put me to sleep. I'm merely talking about the actual prose in the novel. It's so smooth that it merely brought me out of whatever funk I was in. With that said, there were pieces of the story that I felt could've been sort of discussed in a shorter, less descriptive way. This novel wasn't one that over-described every little thing - I can't stand that - but it did have a few parts here and there that I had to sort of breeze through because I had already painted the picture in my mind before the author had to describe it all to me.
The characters: I really enjoyed Foster. She was very introverted and socially awkward. She tries her hardest to just blend in and never be noticed. Her parents - oh, how I enjoyed their quirkiness. Especially when her father turned his skin a different color by accident & her mother teased him about it. It was odd to see such curious and good-natured parents when you already know how awkward and shy Foster is. They brought a bit of lightness to her character where there was otherwise a sort of dull shadow on top of her.
The male lead - Dominic... I wasn't really sure if I liked him. He definitely didn't get a warm welcome from me when we first started to meet him & learn about him. As the story went on, I sort of warmed up to him... and then he would do something sort of asshatish and I would be back on the fence. Foster, however, seemed to need the tough kick he sort of brought her I think. Eh. Anyway.
The supporting characters, the twins especially, were fun. They brought more spunk into the novel.
The plot... It was catching. I honestly thought there would be more overall focus on this big senior project that Foster was so worried about. It ended up sort of being a plot point that stayed in the background and didn't really make a huge climactic situation like I had assumed it would. There were several little plot twists here and there which I needed but the ending.... I was blind-sided. I can imagine that some readers won't like this ending. They'll probably think it was a cop-out ending. Sometimes it works. Sometimes it doesn't. I actually liked this ending in this situation. I will say that I think this novel could be shortened and still have the impact that it does. It was really, really long. It felt long at certain times. It helped that I read it in bits and pieces over such a long period of time. I sort of had a good pace going on. But I definitely couldn't sit and read this in a few long sittings.
So overall... I'm going to be giving this one a 4 stars.
Cover Rating - I'm not loving the cover. It doesn't connect with the story. It's an awesome graphic but if I would've seen it in the store, I would've breezed right on by.
Characters: 3.5
Plot: 4
Climax: 3.5
Ending: 4