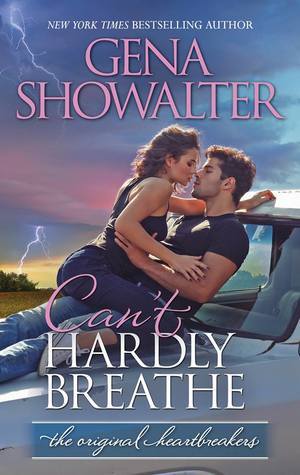 The Original Heartbreakers #4
*ARC received directly from the author in exchange for an honest review*
Blurb via Goodreads:
Bullied in high school, Dorothea Mathis's past is full of memories she'd rather forget. But there's one she can't seem to shake—her long-standing crush on former army ranger Daniel Porter. Now that the sexy bad boy has started using her inn as his personal playground, she should kick him out…but his every heated glance makes her want to join him instead.



Daniel returned to Strawberry Valley, Oklahoma, to care for his ailing father and burn off a little steam with no strings attached. Though he craves curvy Dorothea night and day, he's as marred by his past as she is by hers. The more he desires her, the more he fears losing her.



But every sizzling encounter leaves him desperate for more, and soon Daniel must make a choice: take a chance on love or walk away forever.
Gena Showalter is the New York Times and USA Today bestselling author of over thirty books in paranormal and contemporary romances, as well as young adult novels. Her series include White Rabbit Chronicles, Angels of the Dark, Otherworld Assassins, Lords of the Underworld, Alien Huntress and Intertwined.
Her novels have appeared in Cosmopolitan Magazine, and Seventeen Magazine, and have been translated all over the world. The critics have called her books "sizzling page-turners" and "utterly spellbinding stories", while Showalter herself has been called "a star on the rise".
Grab Your Copy When It Hits Shelves
I was lucky enough to receive an ARC Paperback copy of Can't Hardly Breathe from Gena Showalter. I've read each book in The Original Heartbreakers Series and loved them all so far. I was hoping that I would love this one but I always get a little worried when series move past three books.
I absolutely had no reason to be worried. Gena Showalter continued with this series in the best way possible. Her amazingly crafted characters were solid, emotional, relatable, broken but healing, and unforgettable. The lead female character, Dorothea (Thea), is learning to love herself after being bullied most of her life, cheated on by her ex-husband, and losing the baby she had just found out was growing inside of her. Our absolutely drool-worthy hunk of a broken war hero, Daniel Porter, is the perfect blend of masculine prowess, heart of gold, good intentioned, and natural born protector.
Dorothea knocks his socks off with her raincoat sans nothing else attempt at seduction which sets our plot in a heady, lust-filled, twisting and turning tornado which kept me glued to the pages. I didn't want the story to end. I was sad there wasn't an epilogue but absolutely thrilled with the tiny glimpse at the next couple to be featured in the Original Heartbreakers Series. I can't wait for their story!
Overall, epic story of two seeming broken souls who have to overcome their own fears and insecurities to finally be able to look towards the future and stop looking back. Huge 5 stars for me.
Overall Rating: 5 Stars
Cover Rating: 4 Stars
Plot: 5 Stars - Plenty of ups, downs, highs & lows. You cheer & you rail for and at the characters.
Climax: 5 Stars!
Ending: 5 Stars <-- Would've LOVED an epilogue.