Author Spotlight
Lila Felix!
It's been a while since I've blogged to just blog... so today I'm doing something I should've done months ago but didn't seem to have the chance to. I'm doing a spotlight on an author that's from my own home state! Lila Felix! I love this girl! If you haven't read anything by Lila yet, you must go pick one or more books by her now! Right now... I'll wait.... waiting.... Okay, if you can't do it right now, I'll leave you some links below so you can do that in a while. But really... You have to. :)
So who is Lila?
I am a stay at home mom from the South and wife to the most giving and hard working husband ever. I love to cook and try out new recipes even if they don't always turn out like I want them to. I refer to my kids lovingly as the Three Stooges as they are constantly coming up with new ways to reek havoc in the house. Most recently that included putting a rubberband on the kitchen sink sprayer so it would douse me when I did the dishes. I love to go to roller derby bouts and read in my spare time. I write mostly at night when the house is silent and I can sneak cookies without having to share! If you're into stalking, try under the Cypress trees in the swamps of Louisiana, but watch out for gators!!
Connect with Lila: Pinterest Facebook Twitter Goodreads Website Blog Amazon Author Page
Alrighty, now that you know a little bit about her, I'm going to tell you about some of her work!I'm selfishly going to start with my favorite LF novel.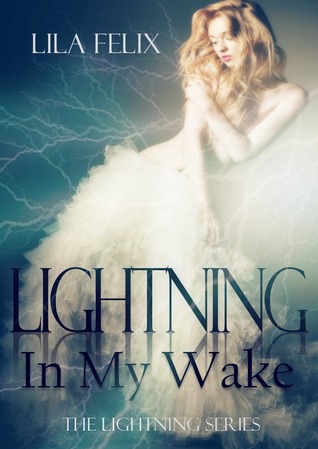 Colby Evans can leap from one country to the next in a heartbeat. She can see every sunset in every time zone in the same day. She can travel across the world in a flash. She defies gravity and physics with every breath she takes. She's tested her abilities and found them limitless.
She is the lightning. She is Lucent. And nothing can stop her.
Except him.
Theodore Ramsey isn't supposed to be able to flash like Colby. The power of travel is passed on from mother to daughter in their people. Except once in every hundred generations.
Theo is the one.
He can flash like Colby. And it makes him a target to their enemies and to himself. His abilities change everything he knows about life and throws his future into an uncertain tangent. In fact, the only thing certain in his life is the love he feels for Colby.
Their love defies time and space and has been the only constant thing in their lives since childhood. But even their infallible love will be stretched to its limits.
She will risk her life to protect him. But he will risk everything to protect them all.
Her life is just as messed up as her name.

All she wanted was a friend---one that knew her and not her circumstances. She needed somewhere to call home. Hers was an open door for countless men looking for the services her mother offered them. She camouflaged herself against lockers and blackboards to avoid the stares and whispers at school.

And then she found Cal...and Fade.

Cal lives like Frankenstein, rising at night to work and just trying to make it until dawn. He avoids most relationships, afraid of the things he will be asked to do. He moonlights as Fade, a radio station DJ who spends hours counseling his peers on their troubles. It was all mundane until Jocelyn called the station.

Cal and Havok pursue a friendship.

Jocelyn and Fade pursue a relationship beyond the confines of the radio waves.

But when Havok disappears, Cal will find that Havok has been guarding a lifetime worth of secrets. And when Fade and Jocelyn's all night phone conversations cease, he finds a link between them he never saw coming.
Number ten is plastered on his team jersey and on his ego. In his own mind, Crown Sterling is the shit. He dates the prettiest women, he dominates on the soccer field, he pours money out of his pockets like it's water. Until a debilitating knee injury puts him out of commission on and off the field. He's sent to an isolated town in Louisiana to recoup, undergo physical therapy and heal. But it's when you're down that you find out who your real friends are, and what they value in you, if anything at all.

All Lyra wants out of life is peace and quiet. She grew up with a regular, everyday family. When she turned sixteen, rummaging through her grandmother's hope chest in the attic, she discovered a secret that would turn her simple, normal life into a ball of chaos that revolved around her. But while she seems to face her fears head on in her career, she lives a life that's secure and well hidden.

A new neighbor moved in next door and he's decided that everyone needs to listen to his rap music, shattering Lyra's quiet existence. Enraged, she stomps to the next townhouse over and who should open the door but a man whose good looks and charming smile knock her breathless.

How good looking? Just ask him.

How charming? He'll tell you that too.

The king must be dethroned.

And a small town girl who's been through hell is just the one to do it.
There are skeletons in every closet. Some stay quiet—and some rule your soul with an iron fist.

Ezra is ruled by the ghosts of his past—and needled by the guilt they create. Not only does he have to manage his own guilt—his friends are forced to bear the weight as well. He lives in limbo, never dreaming of anything that lies beyond the grave.
In his mind, he's a murderer, pure and simple.

Hide and seek is Aysa's game. She begs for small spaces and empty places. But, she secretly desires so much more.
When they find each other, a hope for something new is sprung.
But Ezra's skeletons are out for blood.

"I hide shock well. I'm a pro at hiding. I have no idea that whatever he had to tell me would be so personal—so heartbreaking. But, I quickly remembered that heartbreak was all around him every time he turned around. He needs no more empathy or sympathy in his life. He craves someone to give him a different take on a tired situation.
And different is practically my middle name."
She's spent a long time in a bubble. In an odd turn of events, Corinne is taken out of boarding school and plunged into high school where bullies reign and nice guys come in last.

But this is after she's already fallen in love with Abel over the summer.

Abel is trapped, with friends he secretly hates, but has chosen to stay with the status quo. It's just high school, right?

What do you do when the person you love sees the very worst part of you? And how do you help them when they discover their life is a hoax?
Love and Skate
How It Rolls
Down 'N' Derby
Caught In A Jam
False Start

On the rink she's tough, she's a leader, she's fast and she's the epitome of a rebellious girl. But Nellie's been hurt, only once, but it was enough to make her look at life through different eyes and off the rink she's a timid girl who loves with no pretenses.
A long time ago Owen Black was betrayed by the girl he thought he loved and the guy he called his best friend. The anguish set off a domino effect of negativity in his life and he never has fully recovered. He meets Nellie Forrester and thinks he can let it go for her.
But how can you love someone when the wounds from your past are still wide open?


Despite the odds, Reed Wolfe is making it, by the skin of her teeth. Her dreams and aspirations will have to wait until she can get on her feet. Because right now she's homeless and churning on a downward spiral.
Falcon Black is existing. Not living, not thriving, just jutting along a path. But when he finds Reed, he can't resist the urge to help her, lighten her load. But Falcon tends to go overboard, over the line, crossing boundaries he never thought he would and risking her trust in the process.


Can she accept his love or will it end up smothering her?




Maddox is running.
By accident, he discovered long ago that he was adopted as a baby and his need to find his biological father has consumed him ever since. Now, on a road trip, determined to find his father and his sanity, and armed with locations and his cousin, Nixon, to help him, maybe he can find the answers he's been searching for. With nothing but a suitcase and a wad of cash to get him there, lead after lead takes him further from home.
But he'll find much more than he intended.
He finds Storey, a pint sized pin-up model who has learned painful lessons about guys. Her wounds run deep, but so do his. She knows what she wants, but will she recognize it when it's right in front of her?
Maddox can't touch anyone without feeling like his skin is crawling, but just maybe his instinct to protect this amazing girl will supersede his own hang-ups.
If he can brush her skin and start to feel alive inside...everything will change.


I've loved her since we were kids. But loving someone gets tough when they don't love you back.
Nixon Black has made mistakes. He made one mistake that would change his life forever. Now he's working and in school—and he's got a three year old. He gave up dating when Scout was born, but every night he retreats to another life in his mind, one he could've had with her.
Journey spent her formative years on the arm of any boy that didn't expect anything out of her. She was hiding from the one person who did expect something in return—Nixon. Years after being cheated on and dumped for the last time, she takes a job at a daycare center where there's a genius of a ginger haired girl whose last name is Black.
But the roles have been reversed and Journey is no longer Nixon's first priority. Can he make room for the new Journey? And when he does, will he be able to forgive the old one?
Rex has firsthand knowledge of how love can rip a person to shreds. How it can swallow a person whole, leaving them gasping for air, and dying a lonely person. He watched his mother give everything she had to his father and then she died, too weak and frail to continue on. His father, the deranged man who could barely feed himself—taking care of him left a permanent crease on Rex's heart. He swears he can still hear his pleas for help in his sleep. Nothing can give him solace from the painful memories.
Except this girl.
Hayes is a constant and consistent optimist. She's witnessed her mother and father's almost perfect marriage and taken it as an example of what she wants. But she can't seem to find a guy who is sincere. She's dated them all— snake-in-the-grass jerks, straight-up commitment-phobes, fakes and phonies alike. They all fit her perfect dream on the outside, but when the relationship gets to the nitty gritty, they all crumble like stale bread.
Unable to find a better man, she settles for nothing instead, wondering if a man who treats her right could even exist. With perfect parents and a team name like I Kilda Girl, that man would have a lot to live up to.
Until this boy.
When she sees a rugged, tattooed guy who shows up at all the derby bouts, she wonders if chasing the bad boy might just be right.
Is this everything by Lila?